Real Estate Video Tour
The search for a new home or a commercial property generally begins online. This places a burden on real estate agents to include valuable content in their online listings to make them both attractive and beneficial for potential buyers. A high-quality real estate video tour can help on both of these points.
What is a Real Estate Video Tour?
The term "video tour" has taken on a lot of meanings in real estate. In the past, it was an all-encompassing term that applied to anything from a photo slideshow to a tour taken with a handheld video camera.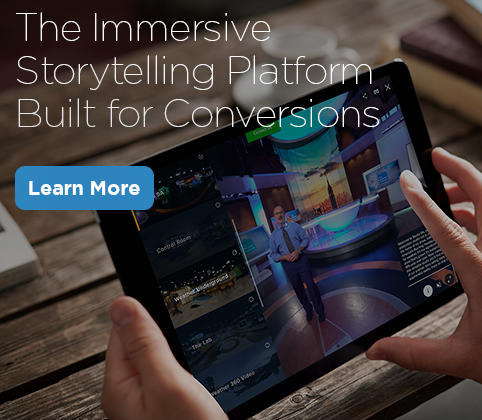 New-age real estate video tours are much closer to virtual tours, and are much more immersive, giving potential buyers a real sense of the property they're viewing.
To create a cutting-edge real estate video tour, numerous photos and videos of a property are stitched together to create a 360-degree experience. Tour takers are able to "walk" through a property and see every angle.
A floor plan or room menu often is included to help with navigation.
The tours can be taken on any sort of device, from a personal computer to a smartphone. The tours even are being adapted for virtual reality headsets for a fully immersive experience.
How are Video Tours Valuable for Buyers?
For a buyer, a video tour is almost like being inside a home or commercial property, giving a buyer a better sense of a property's layout, size, and lighting than normal photographs would.
Real estate video tours can allow buyers to view multiple homes quickly, helping them to narrow their searches without having to visit as many properties in person. Buyers can tour a property several times or show it to someone else without having to schedule additional in-person visits.
Real estate video tours can be especially valuable for buyers searching for a home or an apartment in another city or in another part of the world.
How are Video Tours Valuable for Sellers?
For sellers, real estate video tours can get their listings more views, and get more buyers "through" their homes with less inconvenience.
Realtor.com reports its listings with virtual tours get 87 percent more views than listings without, and 51 percent of website visitors won't look at listings without virtual tours.
By giving potential buyers an opportunity to preview a property, only serious buyers are likely to schedule an in-person visit, lessening the foot traffic for sellers.
The tours also can be valuable to rental properties owners, as properties can be viewed by potential renters even when the unit is occupied.
How Can Real Estate Agents Create Virtual Tours?
Including a video tour in a property listing is becoming easier and easier.
Companies like YouVisit, through its Experience Builder platform, allow real estate agents to upload their photos and videos to the website to craft a virtual tour on their own, or they can contract with a virtual tour company to have a virtual tour made for them.
Real estate video tours ultimately open up properties to more buyers. They give buyers a better sense of what is on the market and what appeals to them, and allows them to view more properties in less time.