VR Software
Virtual reality is immersive, engaging, and fascinating. The ability to stroll the green at Vanderbilt University or get a mountaintop view of Rio de Janeiro, all without leaving your home, is a powerful tool for creating, entertaining, and learning.
And as you can imagine, it can be incredibly complicated to create virtual reality content. However, new platforms such as YouVisit's Experience Builder have been developed to make the process faster, easier, and accomplishable by general users.
While Experience Builder lets you jump right into creating VR content, it is helpful to understand the traditional steps to the process, especially VR software.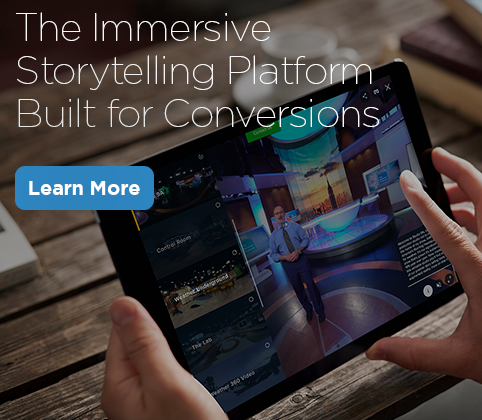 Capturing the Images
Virtual tours begin with photography, with the goal being to capture a 360-degree perspective of a given place. Fish-eye lenses work well for this task, as they can capture the full perspective an experience in as little as two or three photographs.
For the high-resolution images needed for the most immersive experience possible, however, the capture process is more complicated. The camera should be at least 16 megapixels and stabilized with a tripod or other mount. To get the best looking tour possible, thousands of images may might need be captured, depending on the camera's focal length.
Stitching Images
Those individual images are then connected together, or "stitched," creating a three-dimensional perspective–like the inside of a tennis ball. Editing is usually required before this process, to white balance the images, remove optical distortions, balance colors, and to remove the tripod. Once the images are made uniform, a designer uses programs like Photoshop's Photomerge, PTGui 10, Panoweaver, or others to stitch the individual images into one seamless, panoramic display.
Final Touchups
Even after stitching, the panoramic image may need extensive edits to remove imperfections and distortions. Stitching marks must be removed, color conversion is performed, and the final version is compiled to make it compatible with multiple browsers.
Virtual tours are generally viewable via Flash, Javascript (compatible with smartphones and tablets), HTML 5 (universally compatible), or Quicktime VR. This conversion is done with software such as Panotour, Tourweaver, Pano2VR, or Cubic Converter.
Experience Builder
While camera gear, editing software, and proper training cost easily thousands of dollars, Experience Builder provides a platform to streamline and enhance the creation tour tours and virtual reality content.
After creating a free profile, a user uploads his or her own files, which can include images, videos, or panorama files. Users also have the options of using a Richo Theta to capture 360-degree panoramas, which is compatible with Experience Builder's smartphone app.
Experience Builder allows users to arrange various locations in different orders to create "stops" along their virtual tour, and designate "hotspots" within the image—points of interest that can be highlighted with other media, including text and two-dimensional photos that can be linked to online content. These stops can also be linked and tracked through Google Maps.
More importantly, Experience Builder allows users to create content for all leading virtual reality headsets—meaning they do not need to know each devices particular VR software.
Completing a virtual tour from start to finish can be a lengthy, complicated process. But tools like Experience Builder can do much of the technical legwork for you, supporting the quick and easy creation of a beautiful, immersive three-dimensional experience.