Virtual Reality Real Estate
Clear photos and videos of a piece of property have long been standard practice for savvy real estate professionals. These types of images capture property hunters' attention and draws them into a listing. But in the past several years, more and more real estate professionals have started to supplement photos and videos with virtual reality real estate experiences.
Virtual reality real estate experiences immerse viewers in a space, allowing them to look around in all directions and feel as if they are actually there in person. Here's everything you need to know about the growing influence of virtual reality real estate experiences.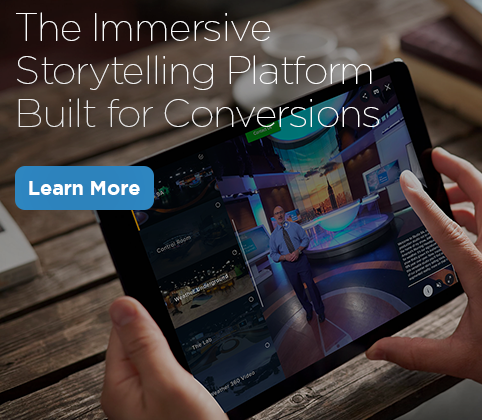 How Virtual Reality Found a New Audience
Virtual reality has been around for decades, but it wasn't until recently that the technology caught up with technologists' visions of what it could do. Donning lightweight virtual reality headsets or even cardboard smartphone holders, a viewer can now experience a life-like, three-dimensional space. Using a VR headset, users have a first-person view of what it's like to be at a destination or event.
Applications for VR have been well-received in areas like medicine, engineering, and, of course, gaming. But marketing professionals have begun to see the benefit of a virtual presentation, as well. Companies like Coca-Cola have used VR to created branded experiences that put potential customers in the locker room at the World Cup.
Coca-Cola's head of global gaming Matt Wolf told Ad Age that the value of the campaign is giving viewers access to an experience that would otherwise be impossible to have. "It's about the authenticity of being inside that stadium," Wolf said. "Yes, thanks to Coke."
Virtual Reality Real Estate Marketing
With the ability to immerse potential buyers directly in a listing (without requiring travel), real estate professionals have begun creating virtual reality marketing campaigns.
Sage Realty Corp's forthcoming "Sky Lounge," which overlooks Saint Patrick's Cathedral in New York City, already offers a virtual reality real estate tour of the 850,000-square-foot building, in which viewers can stroll through outdoor conference areas and wet bar, and also survey the cityscape from its rooftops. A leasing agent simply offers a potential tenant a VR headset in their office, rather than scheduling a physical tour.
"I can take you out there right now and you can see the views, but you can't experience the finishes," Jonathan Kaufman Iger, CEO of Sage Realty Corp, told the Wall Street Journal.
The Next Best Thing
Short of making the effort to travel to a space you're considering to buy or rent, the experience of a virtual reality visit goes beyond still photography. The three-dimensional aspect of virtual reality gives you a better sense of a space's depth, walkability, and a level of detail that 2D photos can't compete with.
"Think about CEOs overseas [who] need to make the real decisions, and they can't get on a flight for another two weeks," Eastern Consolidated senior director Brad Cohen told the WSJ. "The level of detail in imagery we capture, because of the quality of cameras, really does give somebody the ability to purchase from afar."
And with many architects now using virtual reality tech in the design process, you may be able to experiment with different floorplan configurations, changing a room's style, or even see what bathroom sink best fits the space.
Virtual reality's uses in the real estate industry are already starting to catch on, and will only become more popular in the next few years–VR hardware manufacturers are predicted to see revenues of about $1 billion by 2018. For buyers and sellers of both commercial and residential real estate, virtual reality real estate experiences can showcase a space like nothing else on the market.